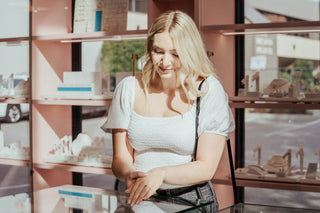 Wedding Bands For Her
Now that you've said "yes" it's time to say "I do" with the perfect wedding band!

Carrying over a thousand different wedding bands and dozens of top jewelry brands here at Perrara, we know our way around a wedding band.

Our collection of wedding bands for her is full of stunning pieces that will be a constant reminder of your lifelong love and commitment. And with ring designers like Tacori, Simon G., Noam Carver, Birks and more, we can find the perfect one. Offering a variety of wedding band styles, metals and price ranges that go from the simplest yellow-gold ring to the dazzling full-pavé diamond band, you'll find a wedding ring that excites you.

Browse our collection of wedding bands for her down below to get started, or stop by the store to see our beautiful selection in person. Along with our beautiful range of wedding rings, we also offer expert advice through our in-store consultations to help you find exactly what you're looking for, without the hassle. Be sure to book an appointment with one of our wedding band experts for an in-store consultation.