Wedding bands to seal the deal.
When you were a kid, the most coveted piece of jewelry was the friendship bracelet. Now that you've found your person, you get to try on a new kind of forever: the wedding band. At Perrara we are so thrilled to get to share in this special time for you two by helping to find the perfect wedding bands. Commonly mistaken as the last item on the list in wedding planning, we encourage you to book the wedding band shopping experience earlier than later, so when the big day arrives all you have to do is say yes.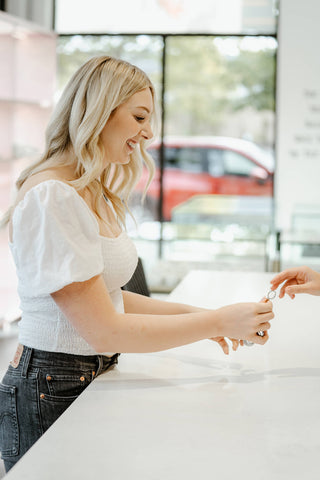 Check wedding bands off your list at Perrara.
1.) Appointments are private and booked in advance so we can provide you with a COVID-19 safe and relaxed environment. 
2.) We recommend booking eight weeks or more in advance of your wedding date. 
3.) After you've booked, make a date of it with dinner reservations in our charming historic neighbourhood of Pandosy Village. 
4.) Plan to be in the shop for forty-five minutes or so, getting sized and trying on bands with your personal jewelry consultant guiding the experience. 
5.) Try, try, and try some more. Try on as many bands as you'd like. You're going to wear this piece forever, so take your time and factor in your lifestyle and personal aesthetic. 
6.) Sleep on it. If you can't stop thinking about a particular band, you are encouraged to come back to try it on again.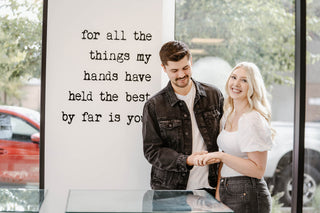 The brands we believe in.
One of the pleasures of working in wedding jewelry is learning how unique each couple is in their own way. Every love story is captivating and individual. The kaleidoscope of love we see inspires us to offer a diverse yet thoughtfully selected range in wedding band designers, from Carlex to Bleu Royale, Tacori, Simon G., and more. At Perrara we believe the wedding band purchase is intended to be timeless, and we are proud of our relationships with brands that share our values.