Engagement Ring Styles
Gone are the days of a few basic engagement ring styles in whatever colour of metal happens to be "in".  The choices today are endless, exciting and fun.  Each designer will even have an aesthetic that is unique to their brand!  With hundreds of engagement rings to view, try on, drool over and try on again, how do you get started?  Here are a few style ideas and tips to help determine which engagement ring style might be the perfect choice for you!
Classic Solitaire Engagement Rings
A classic solitaire engagement ring traditionally has no diamonds on the band.  It is simple and all the focus is on the centre diamond.  This style beautifully showcases any shape of centre diamond (think elongated marquise, crisp princess or elegant oval).  
Past Present & Future Engagement Rings
Symbolizing your time together, the joys you experience now and looking forward to the future, this style is for the deeply romantic.  While still maintaining a classic timeless vibe, three prominent diamonds shine.  Also often referred to as a three-stone ring or accent ring, this engagement ring style features three stones that represent your "past, present & future" together as a couple.  
Halo Engagement Rings
We love a graceful string of diamonds surrounding the centre diamond.  It adds a subtle pop and makes your centre diamond look enormous.  The diamonds in halos come in a multitude of sizes – for example, the Tacori engagement ring on the far left has just a hint of a bloom.  The rose gold Noam Carver engagement ring shown in the middle boasts a bigger effect.  The Noam Carver Atelier ring on the right even alters the shape – a round centre diamond is showcased by an oval halo giving the overall look an elongated effect.  
Diamond Foundation Engagement Rings
Diamonds cascading down the foundation of an engagement ring is soooo pretty.  Also commonly called a pavé band (from the French word "pavé" meaning "to pave") diamond foundation rings make the whole band twinkle with diamonds.  Again, there are so many variations in how the diamonds are set, the size, width of the band and in how each designer will pull those features into a unique piece.  If you are gravitating toward this style allow yourself plenty of time to explore different widths and setting styles.  
Floral Engagement Rings
Floral-inspired engagement rings are wonderfully romantic.  These rings have lots of detail, intrigue and tend to be unique.  If you want an intricate design that is sure to grab attention, maybe floral is for you!  
Choosing The Right Engagement Ring Style
Engagement rings are what Perrara is known for.  With hundreds of styles in stock in white gold, yellow gold, rose gold and platinum we can literally spend hours exploring together.  We can brainstorm together to select something that is ready to go or work on designing a custom piece that no one else will ever have.  The choice is yours!! Contact us today to get started.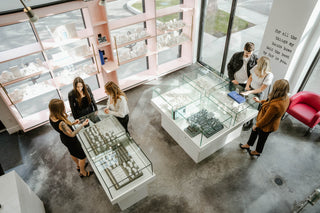 Choosing an Engagement Ring at Perrara
Choosing the right engagement ring doesn't have to be stressful. At Perrara, our expert consultants can help you find the perfect engagement for your loved one, and within your budget. Book a consultation below!