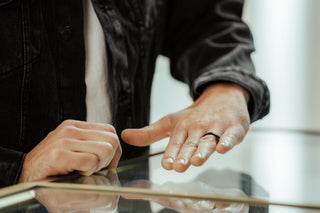 Wedding Bands For Him
She said "yes"! Now it's time to find the perfect wedding band for you.

As the top location for luxury and fine jewelry in Kelowna and the Okanagan, we are confident you'll find the wedding band that speaks to your DNA at Perrara.

We carry hundreds of different wedding bands for him in a variety of styles, metals, sizes and price ranges across several top brands like Tacori, Noam Carver, CARLEX, Bleu Royale and more. Whether you're looking to match your wedding band with your bride's ring or choose your own unique style, we've got a wedding band for every groom, no matter what his style is. With styles ranging from classic simple gold bands to two or three-toned bands with diamond accents, we will find that timeless one.

Along with our extensive range of wedding bands for him, we've got an experienced team to help you find a ring that feels right for you. If you're looking to shop in-store or think you'll need another set of eyes, be sure to book an appointment with one of our consultants for an in-store wedding band consultation. It is what we do.

Browse our collection of wedding bands for him down below to get started, or book an appointment for the in-store Perrara ring shopping experience!